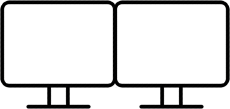 From IDEA to PC in 5 minutes
NOTE: PLEASE USE A DESKTOP COMPUTER. MOBILE VERSION COMING SOON!
pcmaker.co is the ONLY fully automated, 100% beginner-friendly PC builder in the world.
Answer a few simple questions & tell us what you need to do with your PC, then our software selects the best parts for your needs, budget and exact use case.
There are more than one BILLION possible PC part combination, our sophisticated algorithm will pick exactly what will be best for you, to your specific needs.
We then propose a few different ways of buying that will save you ton of money.
Our software finally creates STEP-BY-STEP, CLEAR, CONCISE INSTRUCTIONS tailored to the EXACT PARTS of your PC that ANY BEGINNER that never touched a PC can follow and assemble by themselves.
By building a PC yourself, you'll save around 30% off a fully built retail PC. And it's fun!